Premium Egypt 8 Days from the Pyramids of Giza to the temples;
witnessing the everlasting divine wonders of Egypt. Embark on a Nile Cruise adventure between Luxor & Aswan. All this and much more fun with Safari N Smiles
Hilton Pyramids Golf Hotel – 4 Nights
Nile River Cruise – Nile Style – 3 Nights
Day 1 - Wednesday, 10 Jan 2024 Arrival
Transfer via: Flight, arranged on your own
Accommodation: Hilton Pyramids Golf Hotel, Double bedroom Upon arrival at Cairo Airport, you will be met in the tunnel by an airport representative who will facilitate the visa process and escort you through customs and immigration. Continue to the baggage claim hall and finally to the passenger pick up, you will be introduced to your private driver who will drive you to your accommodation. It can take an hour to get from the airport to your hotel, after checking in, enjoy time at leisure to explore at your own pace, or relax at your hotel.
Note: * Strict dress code for visiting mosques and churches. Men must wear long pants and shirts with sleeves no tank tops. If you're wearing sandals or flip-flops you must wear socks. (No bare feet). Similarly, women must be modestly dressed, have no see-through clothes, bare shoulders, etc.
* Observant Muslims do not drink alcohol or smoke. There might not be alcohol served in the hotel or local restaurants. If alcohol is not offered, it is better not to ask for it.
Thursday, 11 January 2024, Cairo
Accommodation: Hilton Pyramids Golf Hotel.
Meals: Breakfast This morning you are met at your hotel by your private guide and driver for a full-day tour of the ancient Memphis, Saqqara, and the pyramids at Giza. Drive south to Memphis first to visit this ancient capital of Egypt during the Old Kingdom. Then you move on to the Step Pyramid of Saqqara. Finish with the most iconic and largest pyramids at Giza and the mysterious Sphinx, a colossal lion with a pharaoh's head.
Note: * Entering the pyramids is possible and the price is US$ 25/person. Be aware that a limited number of people are allowed inside the Grand Pyramids is based on a first come first serve basis.
* The trip takes around seven hours in total, with a stop for lunch (lunch is not included) in a café or restaurant recommended by your guide.
Friday, 12 Jan 2024, Cairo - Aswan - Nile River Cruise
Transfer via: Flight, Economy Class, arranged by Safari N Smiles(Duration: 1.5 hours)
Accommodation: Nile Style, Standard cabin
Meals: Breakfast, Lunch on ship, Dinner on ship
An early start for a private transfer to the airport for your short flight to Aswan. Upon your arrival in Aswan, a private transfer to board your cruise ship in Aswan is provided. After settling into your cabin, disembark for a guided trip to the High Dam and the Temple of Philae. The latter is a special site, a shrine to Isis: your guide will explain how UNESCO took steps to relocate it to save it from flooding. Later in the afternoon, you will take an Egyptian Felucca to sail on the Nile, passing by the Elephantine Island, and step ashore the Botanical Gardens on the Kitchener Island.
Note: * The itinerary for a shore excursion is subject to change without prior notice due to navigational and security restrictions. The change will be only in the sequence of the itinerary and the visit will be the same.
* WIFI service is available on the boat at an additional cost of around USD15 per day, however, due to poor construction of base stations, wifi is not stable during the cruise. If internet service is essential, it might be better to consult your mobile operator for data service before departing for the trip.
Saturday, 13 January 2024, River Nile Cruise
Accommodation: Nile Style
Meals: Breakfast on ship, Lunch on ship, Dinner on ship
Early in the morning, you will set sail to Kom Ombo to visit the Greco-Roman Sobek Temple, the temple is unusual in that it is a double temple, with one side dedicated to the god Haroesis and the other side to Sobek. The cruise will continue to sail to Edfu to visit the Temple of Horus (also known as the Temple of Edfu), the second-largest temple in Egypt after Karnak Temple. It is considered the best-preserved cult temple in Egypt. This is partly because it was built in the Ptolemaic era from 237 to 57 BC, later than most. Despite its later date, it reflects the traditional pharaonic architecture and so provides an excellent idea of how all the temples once looked.
Sunday, 14 Jan 2024, Nile Cruise
Accommodation: Nile Style.
Meals: Breakfast on ship, Lunch on ship, Dinner on ship.
Early morning sail to Luxor. After breakfast on board, explore some of the most incredible sites in the country. You will visit the Valley of the Kings where you will have the chance to explore three tombs of the ancient Pharaohs. You will then visit the recently renovated mortuary temple of Queen Hatshepsut. Hatshepsut was the second pharaoh of the eighteenth dynasty of Ancient Egypt. The tour also includes a visit to the huge Colossi of Memnon which are all that remains of the mortuary temple of Amenhotep III.
Note: * Your entrance ticket to the Valley of Kings allows you to visit three out of the eight tombs open to the public, if you want to see more than three tombs, you will have to purchase additional tickets.
KV9 Tomb of Ramesses V & VI 100 EGP/person
KV17 Tomb of Seti I 1,000 EGP/person
KV62 Tomb of Tutankhamum 300 EGP/person
* The Hot Air Balloon fly depends very much on the weather and might not be available daily, from October till next April is the best time for it.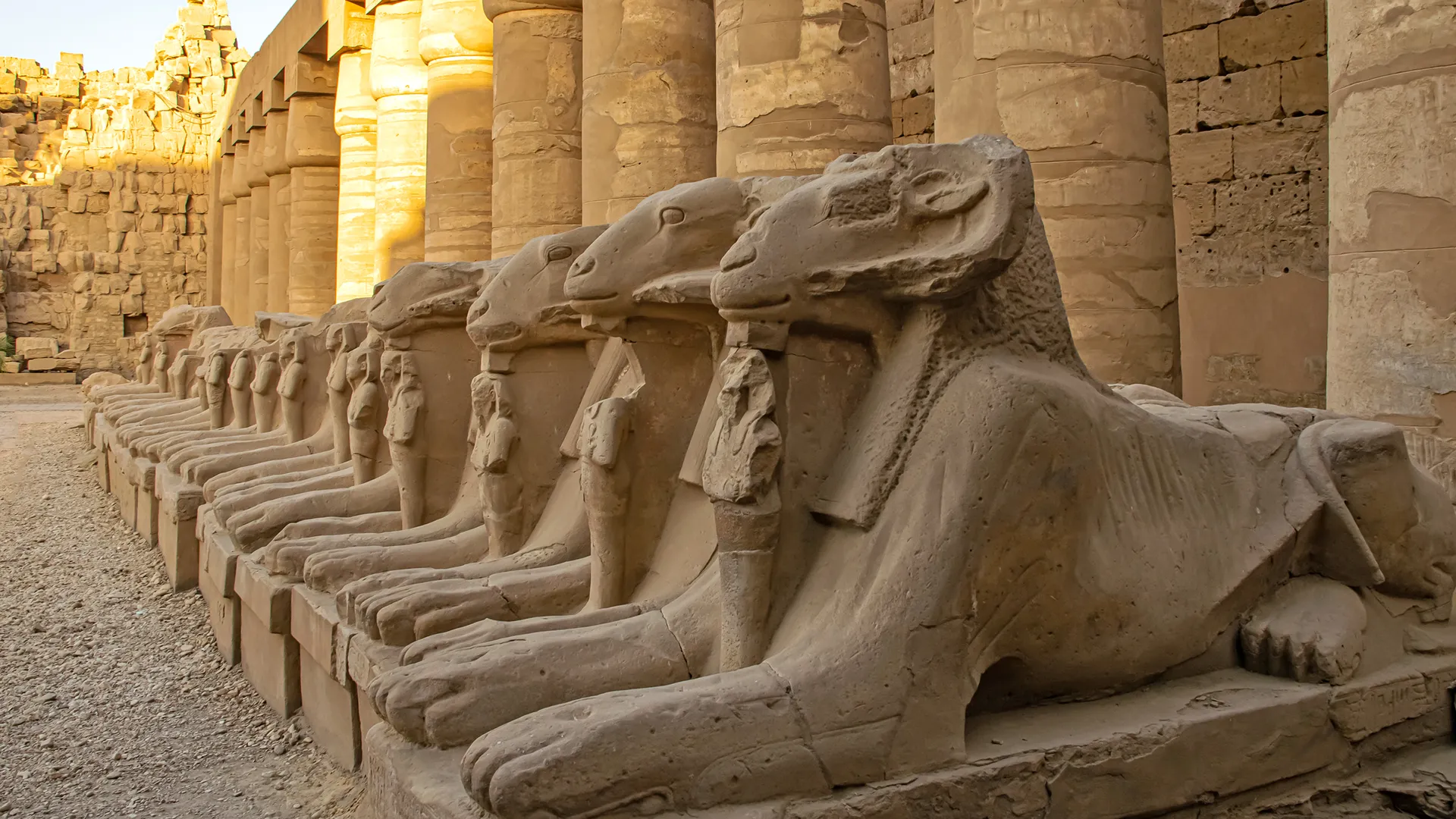 Monday, 15 Jan 2024, Luxor to Cairo
Transfer via: Flight, Economy Class, arranged by Safari N Smiles(Duration: 1 hour)
Accommodation: Hilton Pyramids Golf Hotel.
Meals: Breakfast on ship.
After breakfast on board, you will start your day with a visit to the Temples of Karnak. Walk along the Avenue of Sphinx to enter the complex as your guide explains how the massive facade was constructed. Continue to Luxor Temple which was once joined to the Temples of Karnak by a two-kilometer long Avenue of Sphinx, a portion of which marks the entrance to the temple. Your private guide will offer interpretation and guide you through the most important parts of the temples. After the tour, you will be transferred to the airport to catch your flight. On your arrival to Cairo, you will be met by our Rep and private transfer to hotel for overnight stay.
Tuesday, 16 Jan 2024, Cairo.
Accommodation: Hilton Pyramids Golf Hotel.
Meals: Breakfast.
After breakfast, you will explore the Egyptian Museum, where houses a magnificent collection of Pharaonic antiquities. Later, you will proceed to Old Cairo to visit the Citadel of Salah El Din, and the Mohammed Ali Mosque situated high above the city. Finish the trip at the Khan El Khalili Bazaar to browse and shop.
Wednesday, 17 Jan 2024.
Transfer via: Flight, arranged on your own.
Meals: Breakfast
Free in the day until your driver meets you and escorts you to the airport for your flight to your next destination.
End of service
Price based on 2 Adults sharing a room.
* Double Occupancy (you will share a room)
* Each uses own room thoroughout safari
We are taking a deposit of USD 100 per person.
Click on the Book Now button and a popup will show on your browser.
Select if you want to use single room through out the trip or share room (Double/twin room occupancy) and from the drop down select no of travelers.
You may choose to pay deposit of $100 per person or a full amount. You can apply a discount code if you have any at this stage. 
Add participant details and proceed to make payments.
Thank you 
Maurice, et al. were very accommodating and always available! They made this trip so wonderful with all the events we had planned! And even if things didn't go as planned, you weren't lost in the mix. I can't say enough how incredible this was and very valuable to be able to take my 7 year old daughter! I am so excited to go on more adventures with Safari N Smiles!
Joaquin Castillo Guzman
16/08/2023
My daughter will soon have a birthday I need to take her for a ride in a plane does anyone think they can help me here please I await your response thank you very much blessings
I have always wanted to go on a dental mission trip to Kenya. When I learned about Safari N Smiles, I immediately knew this was the organization I would want to travel with. It may sound cliché, but this was a life-changing trip. The trip was well organized with a comprehensive plan. If you are looking for a relaxing trip, this is not the trip for you. We were constantly on the move. Every minute spent in Kenya was meticulously planned (thank you Morris and Lizzie). Upon arrival, we were greeted by some locals and staff who were incredibly welcoming. In fact, they made us feel like we were part of their community/family. The hospitality was unlike anything I have ever experienced. We toured most of Kenya and its breathtaking landscapes, visiting many cities/towns, toured a coffee farm, and got to drink delicious Kenyan coffee. Drove in a comfortable land rover throughout our journey, going on 11 game drives we were able to see jaw-dropping wildlife in their natural habitat. We fed giraffes in a sanctuary, saw flamingos in Nakuru National Park, interacted with the Maasai people, cycled and hiked through Hell's Gate National Park, went on a hot air balloon ride over the safari (with a beautiful champagne breakfast following), took multiple CE courses, and most importantly provided dental care and education to underserved people who otherwise would go without. The gratitude and appreciation of the people that we helped was truly amazing. I would highly recommend traveling with Safari N Smiles, it truly exceeded my expectations. In fact, I'm already planning for the next adventure!
We had a great time with Morris and Lizzie on this trip. My sister is the dentist that found the trip for us and brought the whole family along for the ride. It was truly a once in a lifetime trip with so many great people.
Fridah Gaichugi
24/06/2023
It was a wonderful experience travelling with this company;delicious food,incredible welcome and a enjoyable atmosphere.I highly recommend this to others.
Dr fidelis mbaka
24/06/2023
Wow! What an experience i had travelling with you.Very professional,well organized I recommend Safari N Smiles 100%. You delived what you had promised Kudos👍👍
Zero regrets! I took my 13 year old daughter and made memories that will last a lifetime. Not once did she complain about not enough access to WiFi or internet (it was surprisingly available and if you have children you know what I'm talking about). It's amazing what experiences the world has to offer if we can just look up long enough to recognize them. She spent half a day blowing up balloons for the kids while we did the dental work and realized how easily happiness comes circumstantially. The world needs more of people like Morris and Lizzie enabling the rest of us to see AND to serve. I will travel with them again!
At first I was hesitant to go to the Dental mission trip in Kenya but I'm glad I did together with my son Alex. I can say it's a great , wonderful and humbling experience . I would do it again and would highly recommend it. It's all worth it. Thank you and God bless you all. ❤️❤️❤️
Wonderful, inspiring materials that helped me get even more excited about the safari. "Tent" will never have the same meaning again. Like living in a dream The drivers were stupendous. Our driver was an incredible tracker with insights and intuition that clearly comes from years of experience. Safarinsmiles is truly an exceptional company with exceptional people … exceptional attention to detail. The level of customer service from Safarinsmiles staff is unparalleled. They are instantly warm and friendly; connecting with everyone they meet like old friends reuniting. The safari experience was exceptional and provided memories we will cherish for a lifetime
AUG 2023 WILDEBEEST MIGRATION SAFARI
Dates: August 23rd- 30th
No of Days: 8
Cost: From $3,900 per person
KENYA NOVEMBER LEVEL UP PRIVATE RETREAT AND SAFARI (Only 22 people)
Dates: Nov 3rd-10th 2023
No of Days: 7
Cost: From $5,000 per person
GHANA 2024 CULTURAL TRIP WITH DENTAL MISSION OUTREACH
Dates:  Mar 1st – Mar 8th 2024
No of Days: 7 
Cost: From $3,800 per person
RESERVE YOUR SPOT FOR $100
Safari N Side Gig Kenya Edition May 2024
Dates: May 15 – 22, 2024
No of Days: 7 
Cost: $5,500 per person
RESERVE YOUR SPOT FOR $500.00
June 2024 Africa Safari and Dental Mission Safari
Dates:  May 30th – June 9th 2024
No of Days: 7 
Cost: From $4,000 per person
RESERVE YOUR SPOT FOR $50
Holy Land: Israel, Jordan & Egypt
Dates:Nov 23 – Dec 4, 2024
No of Days: 11
Cost: From $4,200 per person
RESERVE YOUR SPOT FOR $100